Tue, 07/09/2013 - 13:55
Naughty Nicolas Sarkozy can do no wrong with the right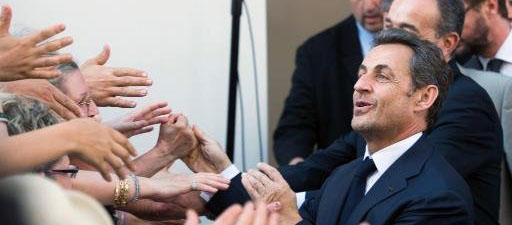 Nicolas Sarkozy bounded back onto the political stage on Monday to great fanfare and jubilation, despite having lost 11 million euros of UMP party money to electoral debauchery.
Met by a gaggle of hysterical fans screaming "Sarkozy for president 2017!", the former president had to stop beaming, briefly, in order to make it clear that the otherwise totally random speech was "not a political comeback". French newspapers compared the statement to that of Magritte's "This is not a pipe".
Hundreds of UMP party members squeezed into the room to watch their beloved former leader's performance after a year-long disappearing act. This, despite the fact that only on Thursday it was announced he had managed to lose the party 11 million euros by breaching electoral spending laws during the presidential election in 2012, which he lost to François Hollande.
But that's no skin off the UMP's back, apparently. By Tuesday morning – just five days after the debt was announced – party supporters had managed to throw 2.7 million euros at the cause, UMP chief François Copé boasted on French radio. "We haven't even counted the cheques yet," he added. Cheques? Oh yes. Considering the general age and personal wealth of many UMP adherents (i.e.: chequebook-friendly and buoyant), it's almost worth entertaining the idea that the rest of that 11 million is already in the post.
A victim of great injustice
Despite boasting of their fundraising capabilities elsewhere, one Sarkozy disciple suggested on Friday that the UMP's cause was so great, everybody in France should chip in to bail them out, even supporters of the rival Socialist Party. "If I were a Socialist activist, I would donate," Geoffroy Didier, who heads a Sarkozyist movement within the UMP, told political weekly Le Point.
His proposal might seem a little quaint, until you hear that of UMP MP Henri Guaino. Speaking of the court that found Sarkozy guilty on Thursday, Guaino compared the ruling with that of Jewish officer Alfred Dreyfus, who was wrongfully convicted in 1894 of spying for Germany. "They're targeting Sarkozy", he said of the Constitutional Court judges. "Do you accept the ruling on Dreyfus [too]?"
The Dreyfus Affair, which saw the young captain stripped of his honour and sent to a penal colony before he was exonerated 12 years later, is considered one of modern France's most shameful miscarriages of justice and one of its most infamous anti-Semitic episodes.
Socialist Interior Minister Manuel Valls scorned the UMP for what he described "making a victim of" Sarkozy. "When you're a presidential candidate and the outgoing president, you know the fundamental rules of financing an electoral campaign," he said.
Tags for all blogs :
Comments or opinions expressed on this blog are those of the individual contributors only, and do not necessarily represent the views of FRANCE 24. The content on this blog is provided on an "as-is" basis. FRANCE 24 is not liable for any damages whatsoever arising out of the content or use of this blog.