Wed, 09/25/2013 - 12:55
The 'truth' is France's Roma are France's problem – not Romania's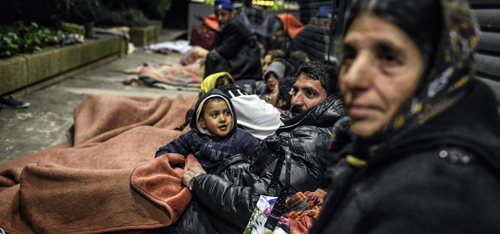 In what felt like the last round of a bad game of snakes and ladders on Wednesday, French Interior Minister Manuel Valls came out to "tell the truth" about the Roma situation.
"These people have an enormously different lifestyle [from the French]," he told radio station France Inter, saying only a small minority managed to integrate themselves. The rest, he said, "should return to Bulgaria or Romania".
He's right about one thing – these people do have an enormously different lifestyle from most French people. Walk home late at night in Paris and you see entire families tucked in under two or three ragged duvets and on a bed of cardboard; the top of one, two or three childrens' heads poking out as their parents prop themselves up either side.
During the day, these families set to begging, foraging through bins and, in some cases, pick-pocketing. When they sit down to eat it's around a tin can and a packet of biscuits donated by a local shopper. After-dinner entertainment for the kids involves a discarded scooter with one wheel and a football that no longer inflates. So yes, their way of living is indeed far, far, removed from those around them who enjoy a home, social security, the opportunity of work, etc.
What is sad about this admission from the interior minister is that it went by largely unnoticed. Yes, the Roma "debate" trundles on; the press are more than happy to put his sound-bite in the day's bulletins. But an actual debate about what is fast becoming a humanitarian crisis in France seems to be missing.
On top of this, anti-Roma rhetoric has become so commonplace over the past few years, that when somebody speaks of "Roma traits," it's barely thought of as discriminatory – even coming from a Socialist government minister.
'Send them back' where?
Back in June 2012 when Valls entered office many thought he might offer a welcome relief to the travelling community. Instead, he has revealed himself as an adherent to Nicolas Sarkozy's "not our problem" way of thinking.
After Valls's admission of "truth" on Wednesday he went on to defend the government's razing of Roma camps, which has seen more than 8,000 people made homeless in 2013 alone.
Under the flimsy pretence of trying to help, the government has been putting homeless Roma on flights to Romania and Bulgaria with 300 euros cash-in-hand. The initiative, launched in 2005 and accelerated by then president Nicolas Sarkozy in 2010, has been criticised not only as totally irresponsible but also as a total waste of money.
Some 10,000 people are flown back and paid off each year, but most of them admit to having no plans of staying in Bucharest, where they face abuse and discrimination worse than in France. The Roma deportees my colleagues spoke to on arrival in the Romanian capital admitted that they would be making their way straight back to France with the 300 euros pocketed.
France's Roma population has remained stable – between 15,000 and 20,000 – for years (it is not spiralling or booming, as scaremongers would have you think).
A people who have spent decades here, who speak the language, who identify as French, and who are EU citizens, cannot be brushed off as somebody else's problem.
Instead of promising to get rid of the "Roma problem" ahead of municipal elections next year, Valls and his peers should be thinking up new ways to integrate this vulnerable group. Razing their homes and deporting them is only going to lead to more homelessness, poverty, and - inevitably - crime. And that's not an election promise anyone wants to buy into.

Tags for all blogs :
Comments or opinions expressed on this blog are those of the individual contributors only, and do not necessarily represent the views of FRANCE 24. The content on this blog is provided on an "as-is" basis. FRANCE 24 is not liable for any damages whatsoever arising out of the content or use of this blog.