Tue, 06/21/2011 - 21:32
Ugly invaders expelled from 'BeautifulPeople' website
Journalists and bloggers delighted in the news Monday that an elitist dating website had been infiltrated by thousands of "ugly people" following a cyber attack last month. Look a little closer though, and it's the beautiful people who won this one.
The story goes that a pretentious dating website came under attack from a virus last month, allowing 30,000 "ugly" people to claim membership.
Unimaginatively named 'BeautifulPeople.com', the exclusive website describes itself as an online dating service "without all the riff raff". How so? It only allows membership through a user-based rating system. When somebody requests to join, their photo is uploaded to the site and voted on by some of its 700,000 members around the world. With enough 'Beautiful' votes, they're in. But a few too many 'Absolutely not' clicks, and they're on the way to a rejection letter. According to the creators, only one in seven make it.

For six weeks this year however, anybody who applied got accepted, irrespective of their looks. BeautifulPeople claims that a former employee had infected the software with an "ugly virus", which disabled the ratings system, allowing even the ugliest of applicants to enter the world of the beautiful. Oh dear.
Once the gremlin had been located, the website was forced to oblige each of the recently recruited to stand for fresh elections. The result? Some 30,000 of them were given the boot.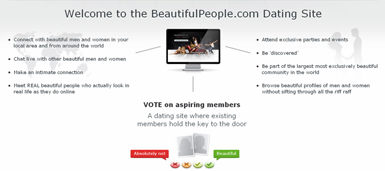 Counselling for rejects
I might have felt sorry for these people, if they hadn't been arrogant enough to seek admission to such an elitist dating club. BeautifulPeople on the other hand, seems to think otherwise. They claim to have reimbursed 100,000 USD to those poor discarded subscribers who had actually paid for a premium service. For the worst hit, the website set up a hotline "to help recently rejected applicants deal with the hard news".
I couldn't resist calling the number (1 (800) 791-0662) to find out what kind of "help" was on offer. But when I got through, I was met with a recorded "office closed" message. Does that mean that only if you are available at UK working hours can you be consoled? Not great news for the biggest losers – Americans. According to the website, over 11,000 US citizens were rejected in the cull (see details below).
Rejects by country:
USA: 11,924, UK: 3,156, Brazil: 2,911, France: 2,340, Canada: 1,220, Germany: 1,205, Australia: 1,093, Japan: 998, Russia: 840, Denmark: 470.
The 'Shrek virus', really?
Sophos consultant and virus specialist Graham Cluley pointed out on Monday that BeautifulPeople had not bothered to inform any security firms about the malware, which they had humorously christened the 'Shrek virus'.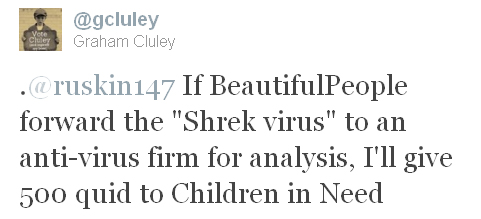 Surely a payout of $100,000 and the cost of hosting a hotline demanded the search for a culprit. Not to mention the trauma the existing, beautiful, members had to endure when their secret club was suddenly invaded by trolls.
Alas no. BeautifulPeople seemed to find the whole thing hugely amusing. In a press release posted Monday, managing director Greg Hodge offered the following:
"We have sincere regret for the unfortunate people who were wrongly admitted to the site and who believed, albeit for a short while, that they were beautiful. It must be a bitter pill to swallow, but better to have had a slice of heaven then never to have tasted it at all."
After reading that, it became painfully clear that this was nothing but a crass publicity stunt. And Greg Hodge, a pretentious moron.
Smiles all round
While BeautifulPeople has yet to admit the hoax, it can't deny a previous stunt of the same nature. In 2010, it was widely reported that the website had struck off members who had put on weight over the Christmas period.
A few months later, PR company Golden Goose won the Best Global Campaign award at the CIPR Awards. The campaign in question was called "Festive Fatties". And with a traffic increase of 700 per cent, the operation was hailed a huge success for noone other than… BeautifulPeople.
Looks like they've done it again!
Tags for all blogs :
Comments or opinions expressed on this blog are those of the individual contributors only, and do not necessarily represent the views of FRANCE 24. The content on this blog is provided on an "as-is" basis. FRANCE 24 is not liable for any damages whatsoever arising out of the content or use of this blog.