Thu, 07/07/2011 - 13:37
Obama's 'Twitter Town Hall', a democratic breakthrough?
Excitement levels on the Twittersphere rose to near-hysteria Wednesday when Barack Obama appeared on the social network to perform his latest tech-savvy stunt – the first ever town hall meeting held on Twitter.
Twitterers were told to ask the president a question by using the #AskObama hash tag, prompting tens of thousands of queries before the day and some 1,000 tweets per minute during the one-hour event.
The questions put forward were selected by Twitter search calculators, which identified the most popular topics – housing, jobs, economy etc. From these tweets a panel of eight journalists picked out 18 tweets, which the president then answered on a live stream.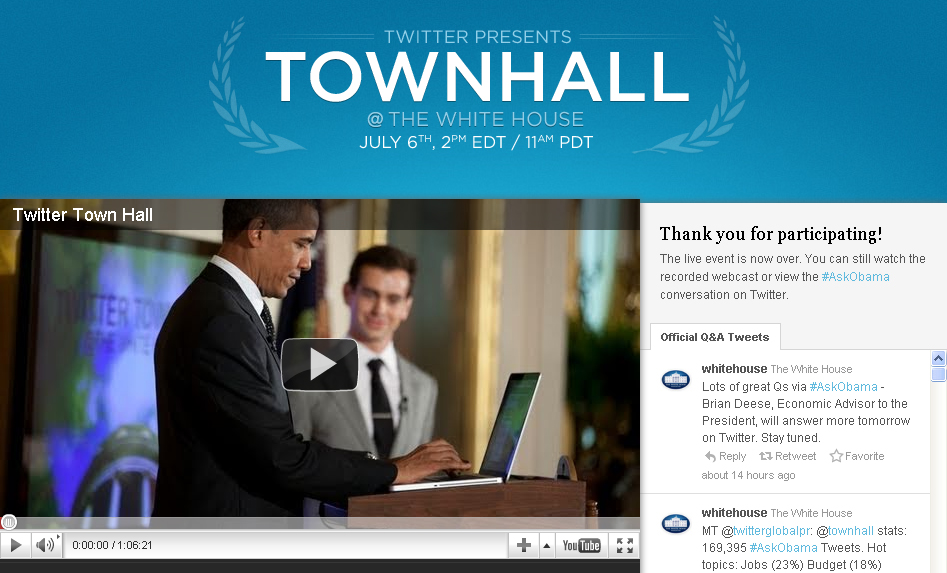 The event was hailed a success for the White House, with US TV channels wiping programming to devote an hour to the event. Obama himself garnered an extra 30,000 disciples on Twitter.
Nonetheless, the idea attracted its critics too. Obviously, Obama was unable to answer all 65,000 questions asked. Some complained that the concept was not democratic enough. CNN grumbled that only 0.045% of questions asked actually got answered. And others booed the fact that Obama didn't say anything groundbreaking.
Firstly, if this had been a real town hall meeting, would Obama have been expected to answer 65,000 questions in one hour? No. He probably would have answered 18, the same amount as during the Twitter version. And hundreds of thousands of people wouldn't have got a ticket.
Secondly, were we really expecting some groundbreaking news from the president? Were questioners hoping for him to cave in to their demands for new jobs and deal them out over Twitter there and then?
As @jgilliam pointed out, '#AskObama was not about the answers, what matters are the questions people asked'.
Legalising marijuana via Twitter?
"First of all everybody can sit down," Obama started the tweet-fest. "It's much easier to tweet from a seated position". Later on, he poked fun at Republican John Boehner for making a typing mistake.

This event was clearly meant to be fun.
Besides, it got hundreds of thousands of Americans discussing what they felt was really important to them.
It also brought up fresh data on public opinion, with numerous statistic-crazed websites publishing results on popular themes, specific questions and regional differences between them.
According to website TwitSprout, the most popular question among re-tweeters was "Would you consider legalizing marijuana to increase revenue and save tax dollars by freeing up crowded prisons, court rooms?" Not hugely surprising, considering the average age of a Twitter user (39), but something for the powers that be to keep in mind.
The most eager Twitterer emerged as @WashingtonDCTea (a presumed Tea Partyist), who submitted a massive 173 questions to the president. In total, the website sifted through over 101 thousand tweets to provide its results.

And finally, the #AskObama hash tag is now being employed as an excuse for humorous tweets in the form of silly requests.
It may not have been a democratic breakthrough, but…
@lamottjackson #AskObama Don't you agree had ABC dedicated an entire season to the origin of the island on LOST, the ending would not have been as bad?
@Sancho_P #AskObama Where's Wally?
@tolli05 Curious as to how I am still awake.... #askobama
@fkliron #AskObama Shall I shave today or tomorrow?
@THECULTUREOFME #AskObama Who should we blame for "mad men" not being back until 2012?
Tags for all blogs :
Comments or opinions expressed on this blog are those of the individual contributors only, and do not necessarily represent the views of FRANCE 24. The content on this blog is provided on an "as-is" basis. FRANCE 24 is not liable for any damages whatsoever arising out of the content or use of this blog.