Sun, 08/26/2012 - 11:34
Become a friend of Sarkozy for just €25

Nicolas Sarkozy might no longer be your president, but he'll always be your friend... For just 25 euros, you too can call yourself a "Friend of Sarkozy".
That's what political allies of the former president told fans this weekend, when weeping enthusiasts gathered to commemorate the legacy of their idol. Tears, speeches, a photo slideshow… The event seemed more like the funeral of a Z-list celebrity than a constructive political gathering. But then, we're not sure if it was actually supposed to be a constructive political gathering. The organisers had trouble defining the event, with one insisting that it was an occasion to "remember, reflect and show loyalty" to the former president, and another describing it as "a meeting of hope". Hope for what – the return of the man himself? He certainly didn't bother turning up on the day itself, when the 2,000 eager participants had to make do with a five-minute film about him instead.
Sarkozy, who was voted out of office in May and has since "retired," was actually just down the road relaxing at Carla Bruni's beach house at Cap Nègre. Surprisingly, the formerly outspoken leader has managed to keep (largely) quiet since his Socialist successor, François Hollande, beat him in the June presidential election. Save for the occasional dig of course. His friends, on the other hand, are rolling in it. The mayor of Nice, one of Sarkozy's toadiest of disciples and also one of the meeting's organisers, told participants on Saturday that while the sun was shining down on them, the "rain Hollandaise" was pouring down on the Socialist Party conference in La Rochelle.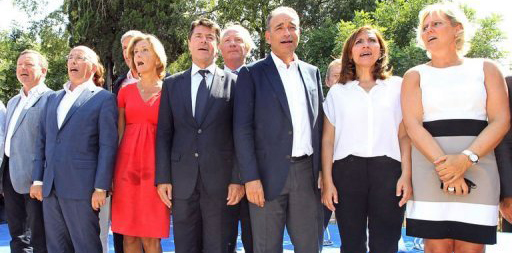 Personal friend finders
Brice Hortefeux, the decaying blond AKA 'Sarkozy's henchman' (pictured centre back), is the man leading the recruitment operation. A close friend of Sarkozy, he's well suited to selling shares in the business. Second up, Nice's Mayor Christian Estrosi (centre left), who is reportedly vying to run for UMP Party President – that is of course, if his treasured leader fails to return. Estrosi launched into his opening speech on Saturday with "We miss Sarkozy, and so does France!" Hortefeux then took the tone from glorifying to morbid when he said, "Of course, you're saddened that Sarkozy is not among us... But he's thinking about you, he hasn't forgotten about you." A brown-nosed participant tweeted "He might not be here in person, but he's here in spirit!" But as one of the less susceptible crowd members told a reporter from magazine Les Inrocks, "It was a bit like being at your grandmother's funeral".
In the club
According to organisers, the Friends of Sarkozy Association already has some 5,000 people queuing for membership, which went on sale on Saturday. In order to become an official friend, hopefuls are asked to fill out a form , detailing their name, address, and occupation. Does that mean farmers need not apply? A cheque for 25 euros is also required, but exactly where the money goes is a mystery. In fairness, Sarkozy should really be giving his friends money, not the other way round...
Or perhaps the money never reaches the man himself but, as with most cults, ends up in the hands of its "benevolent" leaders. After the gathering on Saturday, Mayor Estrosi, Henchman Horetfeux and other Top Sarkozy Friends (i.e.: the ones who actually know him), relaxed in a swish lounge with grilled gambas marinated in Roederer champagne. The total cost of the event? Some €25,000 euros. Works out quite nicely if you have 1,000 "friends"…
Tags for all blogs :
Comments or opinions expressed on this blog are those of the individual contributors only, and do not necessarily represent the views of FRANCE 24. The content on this blog is provided on an "as-is" basis. FRANCE 24 is not liable for any damages whatsoever arising out of the content or use of this blog.