Fri, 10/19/2012 - 13:05
Lights, camera... kitchen appliance: French minister turns pin-up
A French minister has both humoured and excited the country after posing for a tabloid magazine with a Moulinex food blender...
Sporting a fitted Breton shirt – sleeves rolled up, naturellement – and a reassuring smile, France's Socialist minister for industrial recovery is this week's pin-up.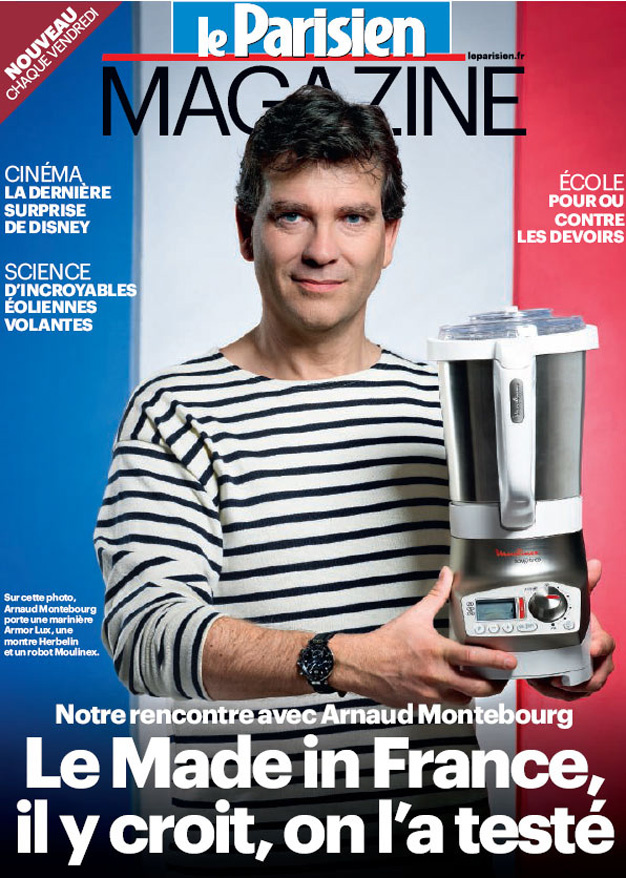 Well, not quite. The hint of lipstick on his pursed lips and a watch that looks like it's been Photoshopped into the picture does make Arnaud Montebourg look a little silly on the front cover of Le Parisien's new supplementary magazine.
He is, after all, holding a food blender as though it were a trophy.
But while the country laughs at him for selling his body for government profit/ failing badly at imitating a Jean-Paul Gaultier advert / brazenly attention-seeking, some observers have come to the conclusion that his "Made in France" brand is actually pretty alluring.
His biggest admirer: Laurence Parisot, the CEO of powerful French business federation Medef, who told RTL radio on Friday morning that she found the photo "very sexy".
Parisot seems to be quite the flirt. Even President François Hollande received a compliment from her this morning. Not quite "very sexy", but he "is certainly not an imbecile", she said. Well, that's a start...
Tags for all blogs :
Comments or opinions expressed on this blog are those of the individual contributors only, and do not necessarily represent the views of FRANCE 24. The content on this blog is provided on an "as-is" basis. FRANCE 24 is not liable for any damages whatsoever arising out of the content or use of this blog.