Mon, 10/22/2012 - 16:42
How not to have an affair like a French president
Do the French really need help in carrying out extramarital affairs?
No. But they do need help keeping them secret, according to Canadian entrepreneur Neil Biderman, who is promoting the French launch of his extramarital dating website this week with a daring billboard ad. To illustrate his argument, the poster has taken four French presidents – including current head of state François Hollande – and printed lipstick kisses on their cheeks and foreheads. "What do they all have in common?" it asks.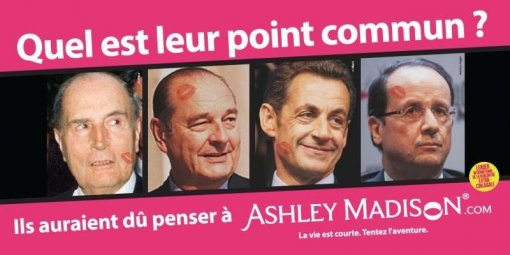 Well, they're all wrinkled, thin-lipped, fat-necked….

No silly! They were all found out for having extramarital affairs. Hence the tagline, "They should have thought of Ashley Madison.com".
The garish three-metre-high billboards are finished off with company's slogan "Life is short. Have an affair". Appearing in two Paris locations on Monday, the campaign has created just the whirlwind of publicity Mr Biderman was hoping for.
Reportedly rejected by every newspaper and magazine in the country as an advertisement – (celebrity 'endorsement' is banned in France) – the image has instead appeared in every newspaper and magazine in the country… as a news story.
Very clever. Nonetheless, Mr Biderman's company does risk legal action from any four of the featured presidents on the poster. It's not going to be François Mitterand (he's dead) or Jacques Chirac (he's senile). Even François Hollande seems unlikely to take the bait. But feisty Nicolas Sarkozy might be the man. He already sued Ryanair in 2008 for a similar offence (below). The result? The miserly airline was forced to hand over one euro as a gesture. In return, they received weeks of free publicity in the French press. The end result? In just a over year, they saw their passenger numbers in France climb by 20%.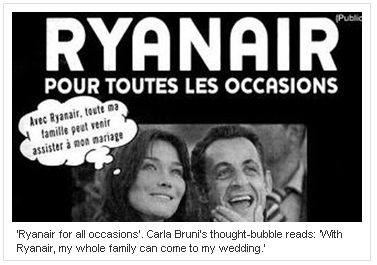 Ashley Madison seems to be following the same strategy, and has already prepared for 'the worst'. "If we face legal action, we will take responsibility," spokesperson Hélène Antier told French daily Le Parisien on Monday. According to the reporter, she seemed far from worried.
As for Biderman, who described himself as France's new 'foreign affairs minister' (get it?) several times on Twitter over the weekend, he sells himself as doing a favour to frustrated French husbands and wives. Speaking in an interview with FrenchWeb.fr on Monday, he said: "I think your famous politicians, your favourite athletes and celebrities have all done it wrong, and I'm going to help Parisians and others pursue their affairs through the internet in a discreet, perfect way."
Biderman, who boasts 60 million global registered users, said that some 800,000 French people had already tried to register on the website over the past year. He also mentioned that when he launched the website ten years ago in Canada, everybody around him suggested doing it in France, a supposed hotbed of extramarital activity. Why the wait? "France was always going to be my last stop because I needed to have the perfect product if I was going to be successful there," he claimed.
But he might have left it too late. In 2009, an online service named Gleeden, which closely resembles Ashley Madison, appeared on the French web and has since attracted 1.4 million members. Perhaps Biderman's real task is not to convince the French to cheat on their partners, but to cheat on their extramarital dating website.
Tags for all blogs :
Comments or opinions expressed on this blog are those of the individual contributors only, and do not necessarily represent the views of FRANCE 24. The content on this blog is provided on an "as-is" basis. FRANCE 24 is not liable for any damages whatsoever arising out of the content or use of this blog.