Thu, 01/24/2013 - 18:30
Cheated French warn Britain against EU divorce... and beef with jam
The French press reacted to David Cameron's EU referendum speech on Wednesday with a generous helping of hostility, a touch of 'rosbif' ridicule, and a great deal of concern.

In demonstrating the seriousness of the PM's perilous move, journalists provided their readers with an array of wondrous metaphors. Murder, divorce, religious sacrifice… Who would have thought European politics could be so exciting?
Russian roulette
The prize for the most theatrical metaphor goes to Breton daily Ouest-France, whose journalist Laurent Marchand clearly has a penchant for 1930s gangster movies. "It's as though Cameron just laid down a gun, loaded with one bullet only, on the EU-member table. Aimed, in principle, at the future of the union," he wrote. "But it could backfire."
Western shoot-out

Southern daily Le Midi Libre also ran with the gun theme, this time in a Western setting: "Cameron was the first to shoot. But did he shoot himself in the foot?"
Failing polygamous marriage
The west coast's Charente Libre meanwhile chose to think of the relationship between the UK and the EU as a rocky marriage (presumably making France a polygamous Daddy figure…). "Either you do what you have to do to keep me, or I'll divorce you… in five years," read the article, headlined "Divorce English style".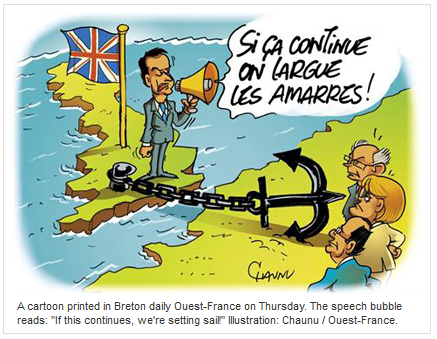 Walking a tightrope
Some were less theatrical, with business daily Les Echos depicting Cameron walking a tightrope between two pools of sharks. On one side, his eurosceptic backbenchers and on the other, his European colleagues. "Walking a tightrope isn't without its risks," the paper warned.
Drifting away
Catholic daily La Croix offered marine-related advice to its island-dwelling neighbours. "Do not let slip your moorings," it concluded somberly, seemingly untickled by its own pun.
Inedible dinner
This being a chance to counter-bash the bash-happy UK, the metaphor frenzy couldn't go without the mention of food. Eastern daily L'Alsace chose to target Britain's number one dish, but then forgot to do its research…
"Cameron's Europe looks a lot like his compatriots' favourite dish – beef and jam. Tasty for an English stomach, but indigestible for those who dream of a strengthened Europe; robust in the face of today's global complications…" Good effort L'Asace, but were you thinking of lamb and mint sauce? Turkey and cranberry sauce? … A jam sandwich??
Religious offering

Finally, national daily Le Monde chose to liken the move to a religious offering to the high gods (i.e.: his backbenchers). "Cameron is sacrificing the first pillar of continental diplomacy at the altar of domestic politics," said the article, which appeared, along with all the others, to have been written in all seriousness…

Tags for all blogs :
Comments or opinions expressed on this blog are those of the individual contributors only, and do not necessarily represent the views of FRANCE 24. The content on this blog is provided on an "as-is" basis. FRANCE 24 is not liable for any damages whatsoever arising out of the content or use of this blog.