Fri, 01/04/2013 - 20:08
France aghast as Economist mocks baguette-wielding Obama
British news magazine The Economist has managed to upset the French again, this time by publishing a mock-up of Barack Obama in a stripy T-shirt, red scarf and blue beret, accompanied by the words "broken" and "lousy".
At first glance the cover might be misconstrued as a light-hearted jibe – photoshopping a beret onto the US president's head seems like such a juvenile idea, it's a surprise more people don't laugh at The Economist rather than with it – but once you start reading the blistering editorial that follows, it's quite clearly not.
The attack is meant for American politicians, which The Economist berates for mishandling the so-called "fiscal cliff" debt crisis. But by comparing their behaviour with European leaders, The Economist succeeds in offering a hearty helping of Brussels-bashing – its favourite hobby – at the same time.
"Washington's pattern of dysfunction is disturbingly similar to the euro zone's in three depressing ways," it begins, going on to describe the deal as "lamentable" and "an abject failure," meanwhile slapping EU policy-makers as "incompetent" and "incapable".
Now, for an American reader, this is an insult to their leaders – getting called a European, in political terms, is slander in the States. For a European reader, it's even worse. The question is not how bad their leaders are; they are doing so unquestionably badly that they have become the benchmark for how bad somebody else is doing.
But for a Frenchman, who is still, at this point, staring at the picture of beret-ed Obama, his crusty baguettes and the words "lousy" and "broken" on the front cover, this is most definitely an insult to the French.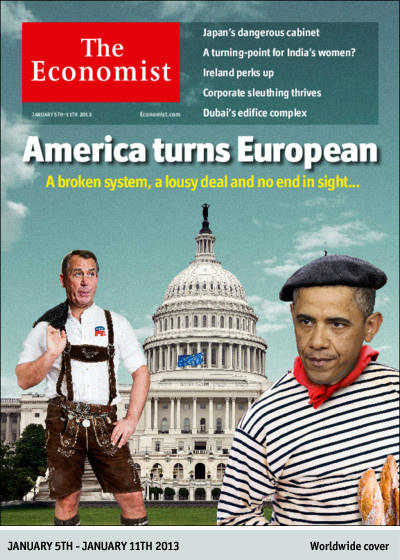 Predictably, the French press responded to the cover with a lot of feet-stamping and spitting of feathers. Within hours of its publication dozens of articles – not to mention threads of garbled and angry comments – had appeared online.
The use of the marinière T-shirt will be particularly painful for France's industry minister, Arnaud Montebourg, who only recently used it as a symbol of French-made success, sporting one himself, just months previously, on the front of a French magazine.
Montebourg has already made his feelings clear about The Economist, which he said in November "has never been known for its sense of moderation," following uproar over an even harsher bout of France-bashing.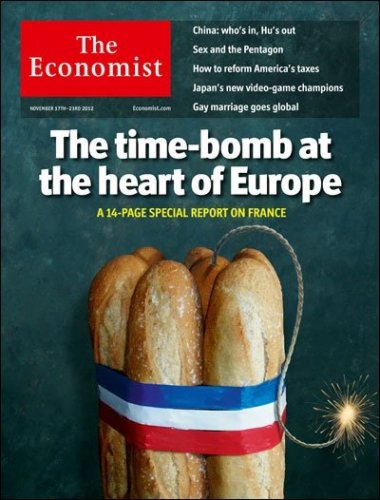 The Economist, of course, has made its own feelings clear about France on several occasions. In April this year, during the run-up to the French presidential election, the magazine featured rivals François Hollande and Nicolas Sarkozy reclining in a forest with bread rolls, fruit and naked companions, apparently unaware of the European crisis, in a take on Édouard Manet's 'The Luncheon on the Grass'.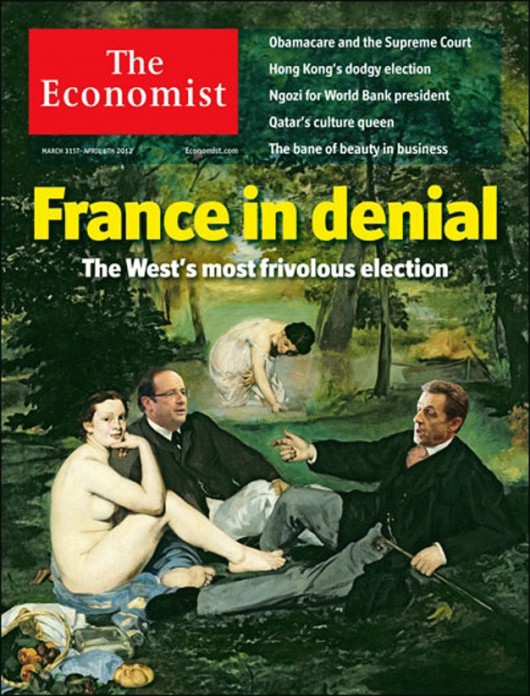 As for their reaction to the winner…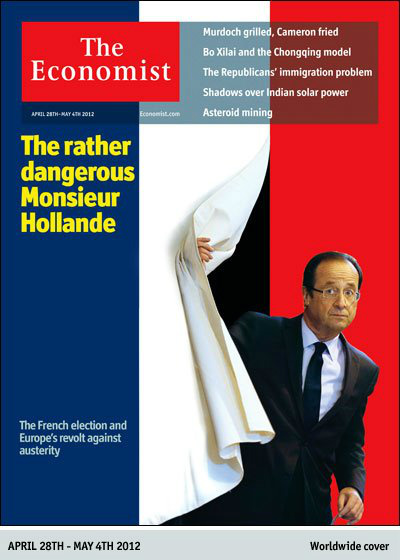 Although back in 2010, Sarkozy got a much rougher deal.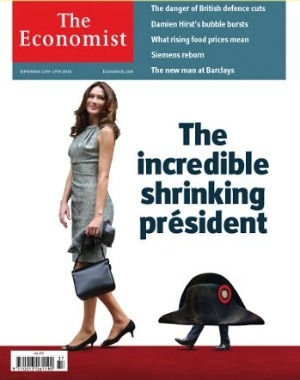 But what, might you ask, of a German reader who finds House Speaker John Boehner tacked into Bavarian lederhosen? If the initial reaction is anything to go by, the Germans seem to have either taken the upper ground or laughed off the joke – not one single German publication had bothered to mention the cover on Friday afternoon. If the French really want to be left alone, then perhaps they should take note…

Tags for all blogs :
Comments or opinions expressed on this blog are those of the individual contributors only, and do not necessarily represent the views of FRANCE 24. The content on this blog is provided on an "as-is" basis. FRANCE 24 is not liable for any damages whatsoever arising out of the content or use of this blog.